Why NMHS undertakes research
North Metropolitan Health Service (NMHS) is involved in a range of research projects spanning the medical, scientific, nursing and allied health disciplines.
The undertaking of research generates significant benefits. Research is known to enhance:
patient outcomes through reduced mortality and morbidity
staff engagement that leads to greater job satisfaction and less burnout
consumer and community engagement with patients and community groups having a positive view of research in hospitals and seek greater involvement
financial benefit with a 4:1 return for every dollar invested.
NMHS is involved in many types of research, including:
medical education research
health service improvement research
clinical trials
translational research
basic research
epidemiological research.
Our reseach activities include:
leading and assisting clinical research
leading or assisting audit research, observational research and laboratory work
recruiting patients into trials
publishing research papers as leading or contributing authors
presenting at research symposiums and/or conferences
developing new guidelines, practices and procedures.
Detailed below are some exemplary research examples.
Nursing Leadership Study
Nursing Leadership Study
The Covid-19 pandemic: Nurse leaders' experiences of decision-making to prepare a tertiary hospital in Western Australia-a qualitative study
Back ground:
As the Covid-19 pandemic has evolved, health services across the world are rapidly preparing to meet surge capacity, which is defined as:
"the maximum potential of required resources either through augmentation or modification of resource management and allocation. Surge capacity contains elements of system, space, staff and supplies''
(Kelen & McCarthy, 2006, p.1089).
Nurses are the largest component of the health workforce and integral to the staffing and management systems of health services. The literature acknowledges the impact of Nursing Leadership in decision–making during public health emergencies (American Organization of Nurses Executives Crisis Management Taskforce [AONL], 2017).
Aim of this study:
To explore the experience and perceptions of nurse leaders as they prepare to meet surge capacity and maintain peak service levels in tertiary and secondary Western Australian public hospitals during the evolving Covid-19 pandemic.
Specific objectives of the study are to:
Determine the types of decisions nurse leaders are making to prepare for the evolving pandemic
Determine factors influencing the nurse leaders decisions as the pandemic evolves
Explore nurse leaders perceptions of the barriers and enablers to their decision making
Explore how nurse leaders communicate their decisions to staff
Explore nurse leaders experiences of organisational response to decisions
Explore the personal and professional impacts on nurse leaders of their experiences as primary decision-makers during the evolving pandemic.
Study setting:
Sir Charles Gairdner Hospital and Osborne Park Hospital within North Metropolitan Health Service and Fiona Stanley and Fremantle Hospitals within South Metropolitan Health Service.
Nurse leaders - Senior Registered Nurses (SRNs) across both tertiary and secondary hospital sites are involved in decision-making during pandemic planning. SRN roles include nurses who lead a single ward, unit, or speciality clinical service, Nurse Practitioners, Nurse Educators, Nurse Managers and members of the Nursing Executive who have responsibility for service divisions.
Despite Covid-19 bringing with it unprecedented uncertainty, the pandemic presents an opportunity to explore the perceptions of nurse leaders and their key decisions aimed at promoting safer work environments and the provision of continuing quality care for their patients and each other.
Investigators on this study are:
Ms Anne Matthews, Clinical Nurse Specialist, CNR, Sir Charles Gairdner Hospital
Associate Professor Susan Slatyer, Research Consultant, CNR, Sir Charles Gairdner Hospital and Discipline of Nursing, Murdoch University
Dr Ana Sequeira, Lecturer in Health Policy, Murdoch University
Dr Penny Keogh, Nurse Director Practice, Research and Education, Fiona Stanley Hospital
Dr Mieghan Bruce, Lecturer in Veterinary Epidemiology Murdoch University
Carl Yuile, Research Assistant CNR Sir Charles Gairdner Hospital.
Allied Health Research
Allied Health Research
Extension of "Pushing the length of stay in stroke rehabilitation: what has lateropulsion got to do with it?": A longitudinal cohort study
Jessica Nolan, Physiotherapy Department, Osborne Park Hospital.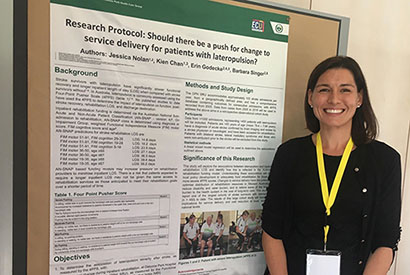 Pushing (also known as lateropulsion) is a postural control impairment after stroke that affects approximately half of stroke survivors requiring rehabilitation. Lateropulsion has negative implications for recovery, but its long-term outcomes have yet to be studied and the usual physiotherapy management of lateropulsion has also not previously been studied.
Jessica's study will investigate:
the association of lateropulsion, on admission to and discharge from inpatient rehabilitation, with lateropulsion severity, mobility status and functional outcome three, six, nine and twelve months after discharge from the Osborne Park Hospital (OPH) Stroke Rehabilitation Unit (SRU).
the relationship between discharge destination and lateropulsion severity, mobility status and functional outcome three, six, nine and twelve months after discharge from OPH SRU in patients with and without lateropulsion.
Best practice physical management for lateropulsion, agreed upon by a panel of international experts.
This observational study involves patients admitted to OPH SRU from July 2019 – January 2021 being invited to participate in follow-up assessments at three, six, nine and twelve months after discharge. Home and residential care facility visits will also be conducted.
An international expert group, comprising of 21 members, is currently working to develop a measurement tool for lateropulsion. Members of the same group, as well as other identified experts, will be invited to participate in a Delphi process panel to determine agreed best practice recommendations for rehabilitation of lateropulsion.
Given patients with lateropulsion account for almost half of stroke survivors requiring inpatient rehabilitation at the OPH SRU, understanding the long-term implications of lateropulsion will help to guide the prioritisation and allocation of valuable resources in the Western Australian, Australian and international health systems.
Resolution of lateropulsion can reduce the burden of care for an affected patient as the longer lateropulsion persists, the less favourable the rehabilitation outcome.
Agreed guidelines on physical rehabilitation of people with lateropulsion will facilitate clinicians to help patients to maximise their rehabilitation potential, resulting in a lower long-term level of disability for impacted patients.